Mark Zuckerberg marries long time girlfriend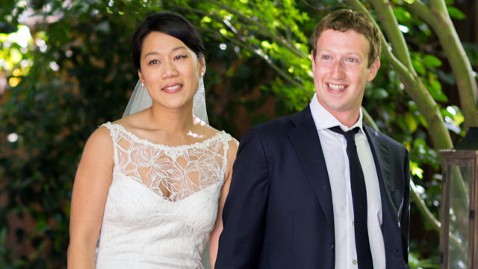 Facebook's billionaire founder Mark Zuckerberg capped an extremely eventful week with a surprising update about his relationship status - he married his long time girlfriend Priscilla Chan in a private ceremony.
Zuckerberg and Priscilla tied the knot at a small ceremony in Palo Alto, California, with guests not more than 100. It included Facebook's COO Sheryl Sandberg as well.
The unexpected news about his marriage to 27-year-old Chan, who recently graduated from medical school in San Francisco, came just a day after Facebook made its public debut through one of the largest initial public offerings and its shares began trading on the Nasdaq.
The wedding was announced, of course, on Zuck's Facebook page, along with a photo of the happy couple. In less than an hour nearly 200,000 people had "liked" the surprising news, and at the time of writing this post, there were exactly 308,304 people "liking" it. Zuckerberg met Priscilla when he was attending Harvard, and the couple have been together for nearly nine years.
The private ceremony took place in the backyard at Zuckerberg's Palo Alto home in California, before a less than 100 guests.